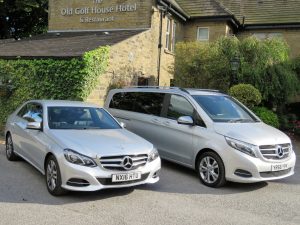 Making your Christmas party a special occasion is an important task for office managers and personal assistants; providing hard-working employees with the opportunity to not only let their hair down but also socialise in an environment outside of the corporate office.
To give your event the added edge, why not arrange luxury transport for your loyal team members? Starting the night with a stylish touch, senior staff and deserving team members can be transported in premium vehicles allowing for a door-to-door service.
Our suited chauffeurs will arrange a pick-up location to collect employees in our fleet of top-of-the-range vehicles, including a Mercedes V Class people carrier which seats six – perfect for collecting larger groups and taking them direct to the party!
Here's three things you should consider when you're tasked with arranging the Christmas party:
1.      Set a clear budget which includes transport: Having a budget in mind which includes transport is one of the first things to plan for. Knowing this before making enquiries will give you an idea of how extravagant you can be.
2.      Have a 'surprise' element which employees won't be expecting: We've all been to business events which are the same as the previous year, so make sure you mix things up a bit. Small touches like luxury transport for employees will make your event a hit before they've even arrived!
3.      Allow plenty of time: Christmas is a busy time for everyone, in both business and personal calendars. Make sure you book venues, catering and transport far enough in advance to guarantee the ideal date for everyone.
If you're looking for luxury transport to your corporate Christmas party, contact us for an instant quote.