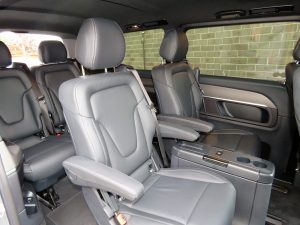 Elite Voyager is an executive travel chauffeur hire service based in Huddersfield, West Yorkshire. With a luxury fleet of vehicles and a team of professional, fully licensed drivers, we offer Yorkshire-based businesses and organisations (including private hospitals/schools) with international executive travel needs, a first class meet-and-greet transfer service to and from Manchester, Leeds Bradford, Heathrow, Liverpool and Gatwick Airports and private jet terminals.
We provide those responsible for booking executive travel, including Personal Assistants, Executive Assistants, Executive Secretaries, Office Managers and Facilities Managers, with peace of mind that passengers will receive a warm welcome and luxury experience at a reasonable price.
Never booked an executive chauffeur hire service? Here are some things to think about:
Ask for confirmation that ALL drivers and ALL cars are fully licensed and DBS/Local Authority checked
Ask to see copies of Fleet Insurance policies, Public Liability Insurance policies, Vehicle Certifications, Operators' Licenses and Driver Badges
Check that they are licensed via the Local Authority to offer a meet-and-greet airport service
Ask whether vehicles have mobile Wi-Fi to enable passengers to stay connected during their journey
Check online reviews and testimonials to ensure that customer feedback is positive and get an idea of the level of customer service offered by drivers
Using a company that has an online booking/payment facility and the option to set up an account will make life easier when it comes to paperwork and finances
Get an instant quote on our website.