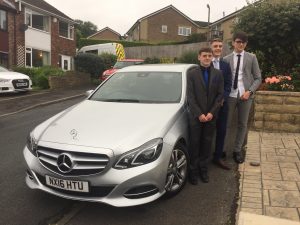 As prom season approaches, prom organisers are in full swing booking venues and entertainment for the big day. Often transport is left for individuals to book themselves as an optional luxury extra. After a quick search on Google, you'll see that many companies offer a 'prom limo' service but how do you know that you are booking a reliable, safe service for your children/students? Teenagers that want to choose and book their own transport will be most interested in the style of the vehicle and the price but they should be encouraged to place just as much importance on who will be transporting them.
At Elite Voyager, we're trusted by some of Yorkshire's top schools to transport boarding students to and from the airport and also have lots of experience of offering prom services so we know the difference between a company that you can trust and those that are just jumping on the prom bandwagon. Here are our tips for booking prom chauffeur services:
Ask for confirmation that ALL drivers and ALL cars are fully licensed and DBS/Local Authority checked
Ask to see copies of Fleet Insurance policies, Public Liability Insurance policies, Vehicle Certifications, Operators' Licenses and Driver Badges
Ask if additional services, such as text messages with driver / car details, for extra reassurance and peace of mind, are offered
Check online reviews and testimonials for the company you're booking; Facebook, Twitter and Google reviews will paint an honest and unbiased picture of the company
Ask if the vehicles have mobile Wi-Fi – we know how popular this is with teenagers as often the fun and excitement starts on the journey to the venue!
Have a look at what cars the company has in their fleet and check that they really are as luxury as your children/students are expecting – just because it is a 'limo' doesn't mean it will have all the best features. Six and seven seater vehicles such as the Grand Voyagers we have can actually be much more luxurious
Make sure you book with an actual person – while we offer an online quote and booking system, it's usually better to pick up the phone and speak to some when booking prom transport
Visit www.elitevoyager.co.uk or call me (Steve) on 07973287873 for more info.