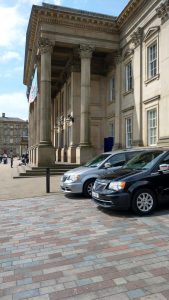 Yorkshire is host to some of the UK's most high profile events at venues like Harrogate International Centre, the Royal Armouries in Leeds. These events cover a wide range of topics: For example, we recently chauffeured a group to the Institute of Architectural Ironmongers conference at Briar Court Hotel in Huddersfield and the 22nd IEEE International Conference on Automation and Computing, which is attended by some of the world's leading technology thinkers, will take place at the University of Huddersfield in September 2017.
Conference organisers have a lot to think about when it comes to co-ordinating all the people and resources involved in pulling off a seamless event with an international audience. Ensuring that high profile speakers, exhibitors and sponsors are well looked after is often at the top of their list. A delayed or disgruntled speaker can throw the whole programme off track!
At Elite Voyager, we take one head ache off your hands by ensuring that your conference 'VIPs' make it to the event on time and in style. Our professional, reliable, friendly drivers can 'meet and greet' individuals or groups from any UK airport in our fleet of luxury vehicles which include features like mobile wifi and plenty of space for luggage.
You can even get an instant quote and book online via our website.